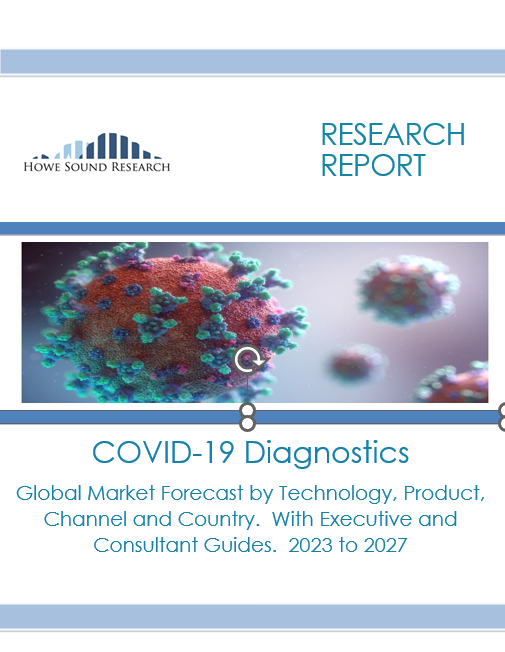 COVID-19 Diagnostics Market Global Forecast
$3,500.00
" COVID-19 Diagnostics.  Global C19 Diagnostic Market Forecast by Technology, Product, Channel and Country.  With Executive and Consultant Guides.  2023-2027"
 "A new very large and sustainable market for Covid related diagnostics is emerging..."
394 Pages
The pandemic may be ending but Covid-19 is here to stay.

This is still a dynamic market as multiple competitors are vying for the very lucrative future for respiratory diagnostics.
New variants and the situation in China have changed the pandemic outlook.  And we have changed ours.  Get the revised outlook based on the latest data.  A new dynamic market is emerging for Covid – 19 based diagnostics.  Testing is moving into physicians' offices and even into the home.  Saliva tests?  Handheld multiplex testers?  Home based testing sticks?  And what about the Workplace market where safety is paramount?    And what happens to the large laboratory capacity that was built up to handle a pandemic now in decline?  Learn all about these changing markets in our latest report.
Revenue, technology, products and channels.  They are all looked at in this complete report that provides detailed breakdowns by country and regions.  Get on top of the situation quickly with our Market Guides and Situation Analysis.
Our research makes you the expert in your organization. Get our research team working for you by ordering this comprehensive report.  Your credit card order sends the report to your inbox instantly.  Check all your licensing options but don't worry, your order is available as a credit if you wish to upgrade to more information. We wrote this report and we are ready, by phone or email, to help you use it. As always, assistance, and additional specific data, is provided without additional charges. 
 See the Table of Contents.
Send an email to us at service@howesoundresearch.com and we will happily email you a FREE copy of SAMPLE PAGES FROM THIS REPORT without any obligation on your part.  And we will not pester you with phone calls!
Make investment decisions and valuations with confidence using the latest data.  
All report data is available in Excel format on request.
Make investment decisions and valuations with confidence using the latest data.  
 ABOUT THE LEAD AUTHOR
Mr. Greg Powell, B.SC., M.B.A is the President of Howe Sound Research and a member of the American Association for Clinical Chemistry. 
He is an experienced business and clinical professional with considerable experience in mergers and acquisitions .  He is co-author of the paper "The Radioimmunoassay of Angiotensinogen by Antibody Trapping."  He has worked in laboratory testing and management for over 20 years .  Mr. Powell's education includes:
Finance for Senior Executives - Harvard Business School
Market Research  - Burke Institute
M.B.A. (Finance and Policy) University of BC
B.Sc. (Chemistry) University of BC