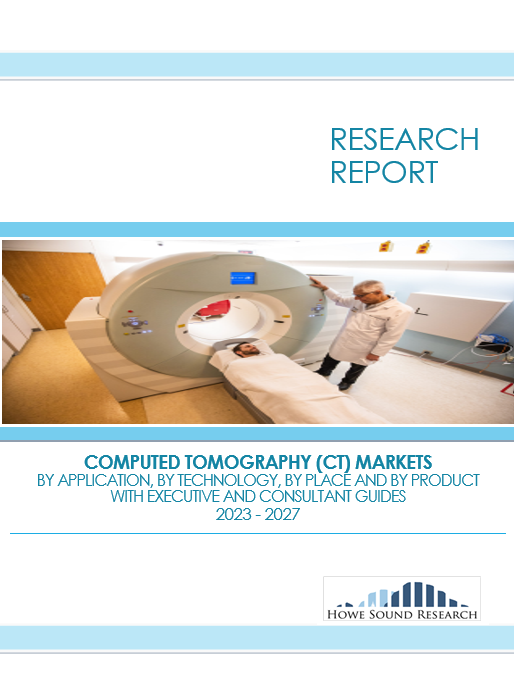 Computed Tomography Imaging Markets
$3,500.00
"COMPUTED TOMOGRAPHY (CT) MARKETS BY APPLICATION, BY TECHNOLOGY, BY PLACE AND BY PRODUCT WITH EXECUTIVE AND CONSULTANT GUIDES 2023 - 2027"
185 Pages packed with information 

Photon counting? More slices?  Where does advancement stop?  Now Mobile and Point of Care are taking a new lead.  This exciting imaging market is driving into new territory driven by greater capability and impressive medical research results.  Find out all about it in this comprehensive report.
 What is the impact of falling costs?  What new market segments are being created? Why is growth so strong?  What about Veterinary and Dental applications?
 The Computer Tomography Markets report provides data that analysts and planners can use. Forecast demand for new testing regimes or technologies.  Make research investment decisions.  Assistance in providing specific growth and market size estimates normally provided without additional charges.  Existing hospitals can use the information directly to forecast and plan for clinical facilities growth.  Again, assistance in using the information is normally provided without additional charges. 
 See the Table of Contents.
Send an email to us at service@howesoundresearch.com and we will happily email you a FREE copy of SAMPLE PAGES FROM THIS REPORT without any obligation on your part. 
 ABOUT THE LEAD AUTHOR
Mr. Greg Powell, B.SC., M.B.A is the President of Howe Sound Research and the American Association for Clinical Chemistry. 
He is an experienced business and clinical professional.  He is co-author of the paper "The Radioimmunoassay of Angiotensinogen by Antibody Trapping."  He has worked in laboratory testing and management for over 20 years.  Mr. Powell's education includes:
B.Sc. (Chemistry) University of BC
M.B.A. (Finance and Policy) University of BC
Market Research  - Burke Institute
Finance for Senior Executives - Harvard Business School