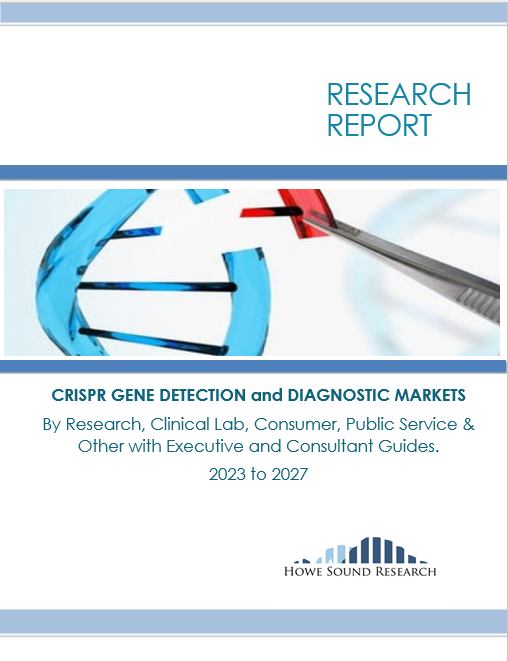 CRISPR Gene Detection Markets
$3,500.00
"CRISPR GENE DETECTION and DIAGNOSTIC MARKETS by Research, Clinical Lab, Consumer, Public Service & Other with Executive and Consultant Guides. 2023 to 2027 "
Unlimited potential from a startling technology.  Low cost in-home diagnostics?  Who knew?  Simultaneous detection of multiple gene targets opens up huge market opportunities that go beyond clinical use…..
421 pages packed with information
CRISPR is not just about changing genes. CRISPR identifies unique genetic material instantly, accurately and cheaply.  A whole new world of identification and diagnostics opens up.  Find out exactly what kind of cold or flu you have.  Find out exactly what kind of fish you are eating.  Instantly detect the presence of unwelcome bacteria, anywhere.  New COVID tests are already available.
Will this disruptive technology change the world of In Vitro Diagnostics?  What is the impact on Clinical Laboratories?  How will social norms be affected?
The market has just gotten started with a handful of small startup companies. Expect the big players to start taking notice. CRISPR is even helping in the battle against Anti Microbial Resistance.  Learn about this market including the issues and outlooks.  The two key trends of Point of Care Testing and Molecular Diagnostics are merging with spectacular success.  It could possibly displace most frontline test protocols AND save money at the same time.  The report forecasts the market size looking out 5 years. 
Our research makes you the expert in your organization. Get our research team working for you by ordering all, or a portion, of this comprehensive report.  Your credit card order sends the report to your inbox instantly.  Check all your licensing options but don't worry, your order is available as a credit if you wish to upgrade to more information. We wrote this report and we are ready, by phone or email, to help you use it. As always, assistance, and additional specific data, is provided without additional charges. 
All report data is available in Excel format on request.
View the Table of Contents.
Send an email to us at service@howesoundresearch.com and we will happily email you a FREE copy of SAMPLE PAGES FROM THIS REPORT without any obligation on your part.  And we will not pester you with phone calls!
 Make investment decisions and valuations with confidence using the latest data.  
ABOUT THE LEAD AUTHOR
Mr. Greg Powell, B.SC., M.B.A is the President of Howe Sound Research. 
He is an experienced business and clinical professional.  He is co-author of the paper "The Radioimmunoassay of Angiotensinogen by Antibody Trapping."  He has worked in laboratory testing and management for over 20 years.  Mr. Powell's education includes:
B.Sc. (Chemistry) University of BC
M.B.A. (Finance and Policy) University of BC
Market Research - Burke Institute
Finance for Senior Executives - Harvard Business School