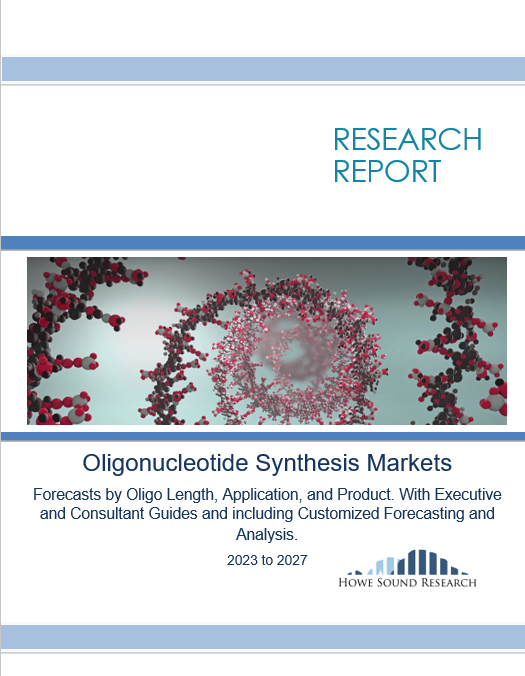 Synthetic Oligonucleotides Market
$3,500.00
"Oligonucleotide Synthesis Markets. Forecasts by Oligo Length, Application, and Product. With Executive and Consultant Guides. 2023 to 2027"
352 Pages packed with information 

Synthetic DNA is here to stay.  New demand.  Longer Oligos. What about enzymatic synthesis?  DNA Desktop Printers.  Will the oldest data storage medium that ever existed be your next hard drive?  Learn all about it in this comprehensive report.
Our facts and support = Your success.
 Synthetic Oligonucleotides are poised for explosive growth as gene technology moves into mainstream healthcare, food production and, even, Data Storage!  We are not kidding.  The market for small snippets of DNA, called Oligonucleotides, is growing into a market for Synthetic DNA where organisms, like algae, are "custom designed" to produce food and medicine while consuming few resources.  In applications like CRSPR Gene Editing and COVID-19 Synthetic Antibodies these "Oligos" are already going to work.  The possibilities, and market growth are unlimited.  Our analysis shows that investors do not yet understand the scope of this technology and the enormous market opportunity.  Small biotechs are in a position to become huge multinationals, all based on producing DNA and its building blocks.  Learn all about it and see our forecasts in this comprehensive report.
 This is a complex area but this readable report will bring the entire management team up to speed, on both the technology and the opportunity.  The technology is moving fast.  It is coming out of the lab and onto the desktop as genetics crosses the chasm into mainstream commerce.
 Our research makes you the expert in your organization. Get our research team working for you by ordering all, or a portion, of this comprehensive report.  Your credit card order sends the report to your inbox instantly.  Check all your licensing options but don't worry, your order is available as a credit if you wish to upgrade to more information. We wrote this report and we are ready, by phone or email, to help you use it. As always, assistance, and additional specific data, is provided without additional charges. 
All report data is available in Excel format on request.
Make investment decisions and valuations with confidence using the latest data.  
See the Table of Contents.
Send an email to us at service@howesoundresearch.com and we will happily email you a FREE copy of SAMPLE PAGES FROM THIS REPORT without any obligation on your part.  And we will not pester you with phone calls!
Make investment decisions and valuations with confidence using the latest data.  
ABOUT THE LEAD AUTHOR
Mr. Greg Powell, B.SC., M.B.A is the President of Howe Sound Research and the American Association for Clinical Chemistry. 
He is an experienced business and clinical professional.  He is co-author of the paper "The Radioimmunoassay of Angiotensinogen by Antibody Trapping."  He has worked in laboratory testing and management for over 20 years.  Mr. Powell's education includes:
B.Sc. (Chemistry) University of BC
M.B.A. (Finance and Policy) University of BC
Market Research  - Burke Institute
Finance for Senior Executives - Harvard Business School